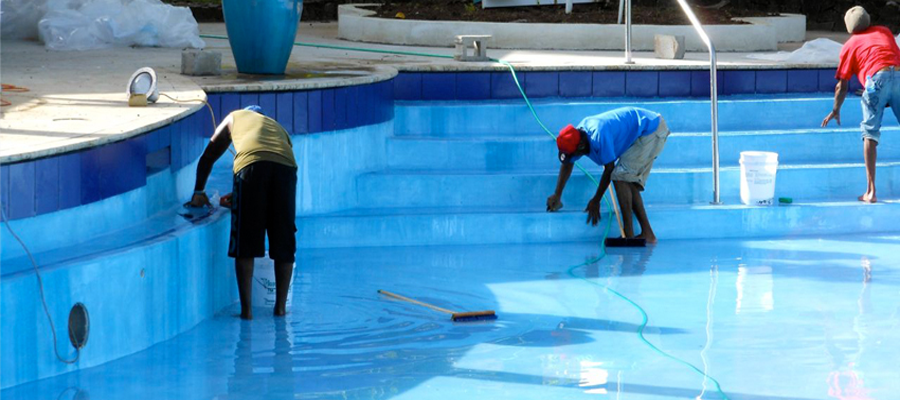 SWIMMING POOL CLEANING SERVICE
Cleaneat Integrated Services offer regular scheduled
swimming pool cleaning services in Nigeria
. Our pool cleaning service include but are not limited to emptying skimmer baskets, washing down cartridges, maintaining water chemistry, testing of water PH and emergency cleaning for pool water gone green. And your location is not a limitation as we cover every area including Yaba, Surulere, Ikeja, Lekki, Ajah, in Lagos and other parts of Nigeria,. We service schools, residences, hotels and resorts, embassies and foreign missions etc.
Establishing a cleaning routine for your swimming pool can be a tedious but important aspect of pool safety and maintenance. Whilst swimming pools present a get away from everyday life, an exercise outlet and fun times, they also present a hidden danger if the chlorinated pool of fun goes untreated or unmaintained.
While pool chemicals are available to solve almost all water problems, they can be dangerous if handled improperly. They can cause skin diseases, eye infection, and damage and can even be fatal if swallowed. Preserve your life and that of your loved ones using Cleaneat professional pool cleaning services that will keep you and your pool safe.
Each weekly cleaning visit includes:
Vacuum the pool
Brush the walls & tiles
Empty the skimmer baskets
Clean or backwash the filter
Empty the pump & filter basket
Skim away any surface debris
Test and adjust the chemicals
Leave a service ticket, reporting what we've done