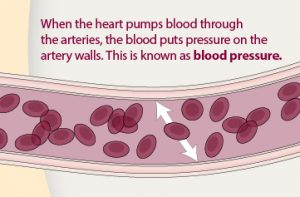 What causes high blood pressure?
The following can increase your chances of developing high blood pressure.
Older age The risk of high blood pressure increases as you age.
The risk of prehypertension and high blood pressure has been increasing in recent years in young people, too, including children and teens, possibly because of the rise of obesity in these populations.
Race High blood pressure is more common in Black American adults than in white or Hispanic American adults.
Family history Having a family history of high blood pressure increases your risk, as the condition tends to run in families.
Being overweight The more you weigh, the more blood you need to supply oxygen and nutrients to your tissues. As the volume of blood circulating through your blood vessels increases, so does the pressure on your artery walls. Obesity — especially abdominal obesity — also increases stiffness in arteries, which raises blood pressure.
Lack of physical activity People who are inactive tend to have a higher heart rate and higher blood pressure than those who are physically active. Not exercising also increases the risk of being overweight.
Tobacco use When you smoke or chew tobacco, your blood pressure rises temporarily. Moreover, chemicals in tobacco can damage the lining of your artery walls, which can cause your arteries to narrow, increasing your blood pressure. Being exposed to secondhand smoke may also increase your blood pressure.
Dietary choices What you choose to eat (and not to eat) can increase your risk for hypertension, including in the following ways:
Too much sodium can cause your body to retain fluid, which increases blood pressure.
Since potassium helps balance the amount of sodium in your cells, not getting enough of it can raise blood pressure.
While studies are limited, it's thought that vitamin D may affect an enzyme produced by your kidneys that in turns affects your blood pressure, so having too little D may be harmful.
Alcohol consumption Drinking more than two drinks a day for men and more than one drink a day for women may raise your blood pressure.
Stress Being under intense stress can lead to a temporary increase in blood pressure. Moreover, if you try to cope with stress by overeating, using tobacco, or drinking alcohol, all these can contribute to your high blood pressure.
Chronic conditions Having kidney disease, sleep apnea, or diabetes can affect blood pressure.
Pregnancy Being pregnant can cause an increase in blood pressure.
Birth control Women who take birth control pills are at greater risk of developing high blood pressure. It's more likely to occur when women are overweight, have had high blood pressure during a previous pregnancy, have a family history of blood pressure, smoke, or have mild kidney disease.
Causes of Secondary Hypertension
When high blood pressure arises suddenly due to an identifiable condition, it's called secondary hypertension.
Some conditions and drugs can lead to secondary hypertension, including the following:
Kidney problems
Adrenal gland tumors
Thyroid problems
Blood vessel defects
Obstructive sleep apnea
Alcohol abuse or chronic alcohol use
Illegal drugs, including cocaine and amphetamines
Drugs That Can Cause High Blood Pressure
Medication that you take to control other health conditions, such as arthritis, epilepsy, or allergies, can cause your blood pressure to rise.
Such medication can also interfere with the ability of anti-hypertension drugs to keep blood pressure down.
Below are some of the drugs that may negatively affect blood pressure.
Pain medication Common pain and anti-inflammatory medicines can lead to the retention of water, which can create problems with the kidneys and higher blood pressure.
Examples include:
Nonsteroidal anti-inflammatory drugs (NSAIDs), such as ibuprofen (Motrin, Advil) and naproxen (Aleve, Naprosyn)
Indomethacin (Indocin)
Acetaminophen (Tylenol)
Piroxicam (Feldene)
Antidepressants These drugs work by changing the body's response to chemicals that affect mood. This can also lead to an increase in blood pressure.
Examples of antidepressants that may elevate blood pressure include:
Fluoxetine (Prozac, Sarafem)
Venlafaxine (Effexor XR)
Monoamine oxidase inhibitors
Tricyclic antidepressants
Decongestants These medicines, which include common cough, cold, and allergy drugs, are known to raise blood pressure and to alter the effectiveness of high blood pressure medication.
How High Blood Pressure is Diagnosed
What's the best way to diagnose HBP?
The best way to diagnose high blood pressure (HBP or hypertension) is to have your blood pressure measured.
How a blood pressure test works
A blood pressure reading is taken with a pressure cuff (sphygmomanometer).
During the test, the cuff is placed around the upper arm before being manually or electronically inflated.
Once inflated, the cuff compresses the brachial artery, momentarily stopping blood flow.
Next, air in the cuff is slowly released while the person performing the measurement listens with a stethoscope or monitors an electronic readout.
What do blood pressure numbers mean?
Blood pressure is measured using two numbers:
The first number, called systolic blood pressure, measures the pressure in your arteries when your heart beats.
The second number, called diastolic blood pressure, measures the pressure in your arteries when your heart rests between beats.
If the measurement reads 120 systolic and 80 diastolic, you would say, "120 over 80," or write, "120/80 mmHg."
Blood Pressure Levels
The Seventh Report of the Joint National Committee on Prevention, Detection, Evaluation, and Treatment of High Blood Pressure (2003 Guideline)2
The American College of Cardiology/American Heart Association Guideline for the Prevention, Detection, Evaluation, and Management of High Blood Pressure in Adults (2017 Guideline)1
Normal
systolic: less than 120 mm Hg
diastolic: less than 80 mm Hg
Normal
systolic: less than 120 mm Hg
diastolic: less than 80 mm Hg
At Risk (prehypertension)
systolic: 120–139 mm Hg
diastolic: 80–89 mm Hg
Elevated
systolic: 120–129 mm Hg
diastolic: less than 80 mm Hg
High Blood Pressure (hypertension)
systolic: 140 mm Hg or higher
diastolic: 90 mm Hg or higher
High blood pressure (hypertension)
systolic: 130 mm Hg or higher
diastolic: 80 mm Hg or higher
If you are diagnosed with high blood pressure, talk with your health care team about your blood pressure levels and how these levels affect your treatment plan.
Treatment for High Blood Pressure
Changing your lifestyle can help control and manage high blood pressure. Your doctor may recommend that you make lifestyle changes including:
Eating a heart-healthy diet with less salt
Getting regular physical activity
Maintaining a healthy weight or losing weight if you're overweight or obese
Limiting the amount of alcohol you drink
But sometimes lifestyle changes aren't enough. If diet and exercise don't help, your doctor may recommend medication to lower your blood pressure.
Medications
The type of medication your doctor prescribes for high blood pressure depends on your blood pressure measurements and overall health. Two or more blood pressure drugs often work better than one. Sometimes finding the most effective medication or combination of drugs is a matter of trial and error.
You should aim for a blood pressure treatment goal of less than 130/80 mm Hg if:
You're a healthy adult age 65 or older
You're a healthy adult younger than age 65 with a 10% or higher risk of developing cardiovascular disease in the next 10 years
You have chronic kidney disease, diabetes or coronary artery disease
Ask your doctor what your blood pressure treatment goal should be. Also, the ideal blood pressure treatment goal can vary with age and health conditions, particularly if you're older than age 65.