Why Use A Storage Tank?
In other to make water always available when needed a water storage tank is necessary. Whether you harvest rain water or you are using a borehole like most homes do in Lagos and other parts of Nigeria, the water generated is not always used when it comes out. It therefore becomes necessary to store it in a hygienic reservoir until needed.
Overhead water tanks are used especially for water storage purposes. These tanks come in different shapes & sizes like a circular water tank with doomed top & conical base, rectangular shape water tank, conical shape with flexible & rigid circular shape & many others. There are different types of these PVC water tanks available in Nigeria. These tanks once installed seldom require any maintenance. Subject to operating conditions these tanks have a lifespan of fifteen years or even more in many cases.
Water Storage Tank manufacturers/Brands in Nigeria
The most popular water storage tank manufacturer in Nigeria is the Geepee Tank makers. Other well known names include Storex and Hart.
Geepee Tank Sizes & Prices
In Nigeria plastic tanks are commonly referred to as Gp Tanks as it has been the number one choice when people even merely think of water tanks. Geepee tanks come in sizes measured from 500litres to 10,000 Liters. Below are the different sizes available and the latest prices of Geepee tanks in Nigeria
| Size | Price | <><> | Size | Price |
| --- | --- | --- | --- | --- |
| 500 Liters | N48,000 | | 4,000 Liters | N195,000 |
| 1,000 Liters | N55,000 | | 5,000 Liters | N260,000 |
| 1,500 Liters | N90,000 | | 6,000 Liters | N370,000 |
| 2,000 Liters | N98,000 | | 7,500 Liters | N480,000 |
| 2,500 Liters | N139,000 | | 10,000 Liters | N598,000 |
| 3,000 Liters | N150,000 | | | |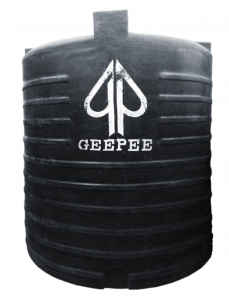 Storex Water Tanks Sizes & Prices
Made from high quality material, durable, and long lasting Storex plastic water Tanks are weather proof, easy to clean, very durable and environment friendly. Below are the different sizes available and their prices
| Size | Price | <><> | Size | Price |
| --- | --- | --- | --- | --- |
| 500 Liters | N47,000 | | 4,000 Liters | N195,000 |
| 1,000 Liters | N50,000 | | 5,000 Liters | N260,000 |
| 1,500 Liters | N90,000 | | 6,000 Liters | N310,000 |
| 2,000 Liters | N98,000 | | 7,500 Liters | N420,000 |
| 2,500 Liters | N130,000 | | 10,000 Liters | N578,000 |
| 3,000 Liters | N145,000 | | | |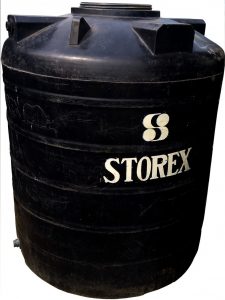 Hart Water Tanks Sizes & Prices
Made from high quality material, durable, and long lasting Storex plastic water Tanks are weather proof, easy to clean, very durable and environment friendly. Below are the different sizes available and their prices
| Size | Price | <><> | Size | Price |
| --- | --- | --- | --- | --- |
| 500 Liters | N47,000 | | 4,000 Liters | N195,000 |
| 1,000 Liters | N50,000 | | 5,000 Liters | N260,000 |
| 1,500 Liters | N90,000 | | 6,000 Liters | N310,000 |
| 2,000 Liters | N98,000 | | 7,500 Liters | N420,000 |
| 2,500 Liters | N130,000 | | 10,000 Liters | N578,000 |
| 3,000 Liters | N145,000 | | | |