Reliability of water supply is the main driver for drilling boreholes and the availability of mains water supply is limited in certain locations. Both domestic, industrial and municipalities rely of underground water system for provision of potable water.
If you are looking for the best borehole drilling companies in Nigeria you would need to contact Cleaneat.NG, they have a collection of verified and well tested vendors to offer professional services in water treatment and construction of boreholes in Nigeria. Then the next question follows:
What is the Cost of Drilling Boreholes in Nigeria?
It all depends on the area; the cost of drilling a borehole in Lagos for instance differs from the cost of drilling a borehole in Abakaliki for instance. It is not professional to put a price tag on a borehole drilling project without a proper hydro-geological information.
Also the challenges you face in the same environment varies from one project site to the other and the solution to one is different from the other. There are so may other considerations like the capacity of the submersible pump to be installed, because they come in different capacities and their prices varies as well.
However generally speaking, the cost of drilling a borehole in Nigeria is between N150,000 and N650,000 depending on so many factors
How Deep Should a Borehole be?
This also affects cost and is one of the basic consideration in the pricing of the project. It is important to note that we have different borehole types, depending on the depth of the fresh water aquifer. We have scientific modeled shallow borehole, direct shallow borehole and industrial(deep-well) borehole. Each one of these borehole types is designed to serve a particular purpose different from the other. \
Also, in carrying out a drilling project, whether in the basement complex or sedimentary terrain, certain factors like underground water contaminants, depth of the fresh water aquifer, productivity of the well, septic contamination, mineralogical composition of the project site, salinity, etc, should be taken into consideration.
Types of Borehole depths
1. scientific modeled shallow borehole: This borehole type is specifically designed for challenging environments like Lekki, Ajah, Apapa, Victoria Island, Ikoyi, satellite town, Sangotedo, Lagos island, etc. It is scientifically modeled taking into consideration the challenges of underground water contamination in such areas, it is saline free, odour free, bacteria free, particles free. It is efficiently productive, antiseptic assured, neater, safer, sustainability assured and extensively durable. It is basically designed for private or domestic use.
2. Direct shallow borehole: This borehole type is the most common within Lagos and its environs. It is the least expensive of all borehole types, the reason why it is called shallow borehole is because the borehole is not drilled to a far depth, it has active production sustainance and it is economically very affordable. In some challenging environments like Victoria island, Lekki, Ikoyi, Ajah, Lagos Island, satellite town, sango-tedo, etc. There is the possibility of saline contamination, sewage infiltration, organics, hydrogen sulphide(H2S) and run-off incursion in the shallow bed. It is therefore advised that water treatment plant be installed for assurable safety, human health and environmental pressure.
3.Industrial or deep borehole: This borehole type is the most reliable in terms of production capacity and resistance to contaminants infiltration. The aquifer is confined and deep depth located. This well production possess industrial capacity, the confine nature of the aquifer is safe from all quality interference . It is the most reliable of all the borehole types and is specially designed for bottle or pure water processing factories, large residence, hotels and high rise buildings, production factories, community water schemes,etc. The deep borehole is the most expensive of all the borehole types, because of the depth and the nature of materials involved in the drilling operations.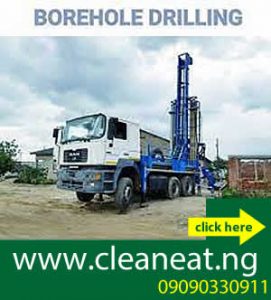 Types of Borehole Drilling Process
This is another major determinant of the price of constructing Boreholes in Nigeria. There are two main types of borehole drilling process in Nigeria: The manual drilling process and the heavy-duty borehole drilling process
1. The manual drilling process: This is a cheap borehole drilling process requiring basically man power of about 10 people to drill the hole. It takes more time to complete and is an option when there is less complexity in the topography of the area. The cost can range from N150,000 to around N350,000.
2. The Heavy-Duty Drilling process: This process is achieve using heavy-duty machines. It does not require many people and it is faster though more expensive. The cost can range between N400,000 to N700,000
Borehole Drilling Company in Nigeria
If you are looking for a professional borehole drilling company in Nigeria then you are in the right place. As a hygiene solution provider in Nigeria our focus is to provide clean hygienic water supply that meets the need of the growing population. To this end we work with tested and trusted vendors to provide safe, adequate and quality water supply. We also embark on Septic tank Evacuation, plumbing services, sale of water tanks and water pumping machine.