Features of dispenser soap:
1. Three function for selection,Liquid/spray/foam/shower gel/shampoo/washing/alcohol/disinfector etc.
2. Products can use either disposable bag or refillable bottles
3. The glue cushion of liquid soap dispenser pump head use silica gel,strong wear resistance
4. Elastic spring can be used 300,000 times
5. Translucent viewing window to see the soap level, convenient to refill the soap
6. The product is composed of a plurality of separate components, if damaged, components can be replaced at any time
7. ABS Material,long life,fashion design, Own brand,unique patent
8. Comes with vandal resistant security lock and key,keep the liquid clean
9. 1200ml Bathroom automtic soap dispenser BQ-7960
Product Specification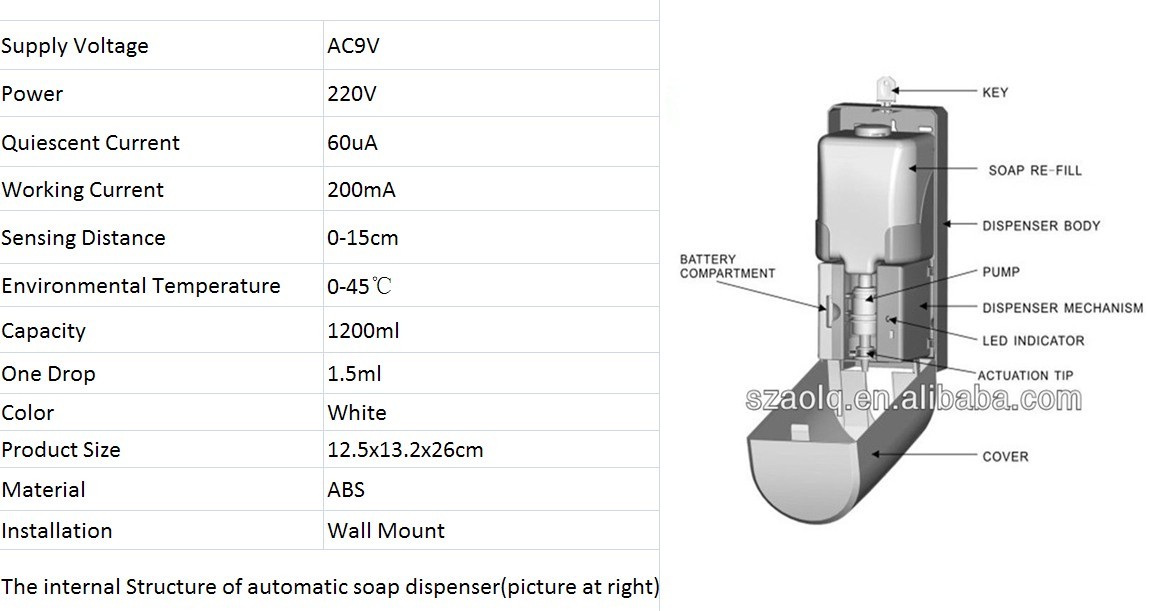 Things to Note:
1-The first time you use it, you should drain the vacuum off before adding the liquid soap.
2-The first time you use it, if you find there is water in the inner bottle or pump, don't worry, it is not the quality problem, but is left by our workers during checking the products before these products go out.
3-If no liquid flow, maybe the liquid is too thick, you should add little water to stir.
4-The dust and other impurities will block up the liquid outlet, if the liquid soap in the dispenser go bad, please exchange the liquid soap immediately.
Two Power Supply Modes for Your Choice: Charges or Batteries.