Boot & Shoe Covers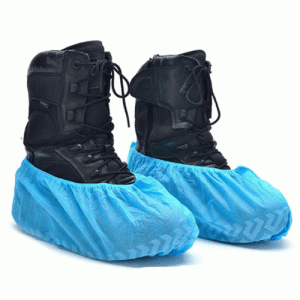 The use of disposable shoe and boot covers helps maintain a sterile environment while eliminating the risk of contamination to the clean room and the wearer. Here at Cleaneat Integrated Services Ltd. we offer a range of disposable shoe covers, head covers and other PPE products in Nigeria to meet the needs of your controlled environment.
Disposable Shoe Covers are widely used in hospital industry to maintain cleanliness and hygiene. Highly recommended for the medical industry but also for the real estate; construction and home repair industries.
If you work in a medical environment (hospital, laboratory, surgical facility, etc.), shoe covers are often required to protect you, your patients, your surroundings, and objects you may touch or that are in proximity. Using disposable or reusable (in some circumstances) shoe protection, medical personnel can protect themselves against spatters, liquid, and chemicals that may pose a danger. Also, using shoe or boot covers protects other people from receiving contaminants from you. Everyone wins.
Related PPE Supplies
Hand Hygiene Products