Electric Wheelchair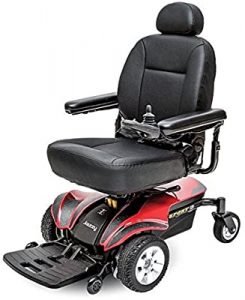 Indoors or out, battery powered wheelchairs have the performance and manoeuvrability to get you where you want to go. Our electric wheelchairs are designed for an independent life and are available with a host of drive bases, seating systems and expandable control systems. With an electric powerchair, you'll always be in control of your independence.
Order for your electric wheelchair in Lagos Nigeria. The Jazzy 600 ES provides excellent performance and outstanding stability. Its compact design and standard Active-Trac ATX Suspension allow it to excel indoors and out, making it a superb, all-around power chair choice
Electric wheelchairs are primarily used by people who have low physical strength or limited mobility of the arms and hands. With powered wheelchairs it is particularly important to determine in which environments the wheelchair will predominantly be used, as some models are better suited to indoor use and other are designed for mostly outdoors. There are also some electric wheelchairs that offer a good mix of indoor/outdoor functionality.