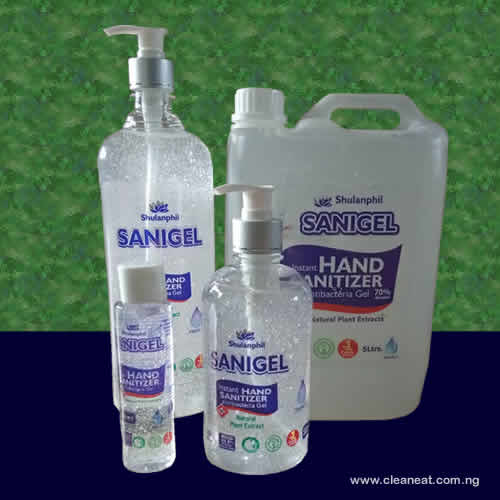 About Sanigel Hand Sanitizer
We offer the germ-killing power of Sanigel Hand Sanitizer in several different formats and dispensing options, Available are 100ml, 120ml, 250ml, 500ml, 1 Liter, 4 Litre and 5 Litres some come in Liquid. Now you can promote well-being throughout your facility and your home. Antimicrobial gel with 70% ethyl alcohol to help reduce the number of germs on hands. Sanigel Instant  can be used at home or placed in public locations such as schools, workplaces, banks, or cars/buses.
SANIGEL kills bacteria quickly, while it cleans, moisturizes and refreshes the hands. It helps to reduce the risk of infection. Ideal for health care and police personal. May be used as a supplement to normal hand washing when soap and water are not available
Sanigel Hand and surface sanitizer is the one of the NAFDAC approved sanitizer in Nigeria.